Software Freedom Day 2012
Meeting Location
Note: this event will be held from 10am-4pm.
Software Freedom Day is an invitation to shape the future of our
digital world. Rather than being overwhelmed and controlled by the
many issues of our computerized age, the free software movement
harnesses the creativity of citizens worldwide. Free software treats
software -- the code that runs computers, cellphones, and other
technological devices -- as abundant, not scarce.
We are encouraged to use this abundance, learn from
it, and share our contributions with others. Although it sounds like
the geekiest holiday ever, the issues we celebrate on Software Freedom
Day affect everybody whose lives are touched by technology.
Software Freedom Day is celebrated in 64 countries across the world,
and for the fifth year in a row Waterloo Region is joining
the party.
This year, the Working Centre is running Software Freedom Day
celebrations on Saturday, September 22. The Queen Street Commons Cafe
will host talks suitable for non-technical audiences, on such
topics as the economics of Free Software, getting started on writing
your own software, and examples of open source in the photography
world. The Computer Recycling space at 66 Queen Street will host a
helpfest, where volunteers can help you install free and legal
software such as Ubuntu or LibreOffice on your own computer. There
will also be interactive demonstration machines and giveaways.
No matter what your level of computer skill, we invite you to join us:
Software Freedom Day
Saturday, September 22
10am-4pm
Computer Recycling (66 Queen Street S)
Queen Street Commons Cafe (43 Queen Street S)
Kitchener
Bazaar + Outsider's Drupal Overview
Adam Glauser will show us the use of Bazaar, a distributed version control system used extensively by the Ubuntu project.
Paul Nijjar will give a somewhat-nontechnical outsider's view of his experiences with the Drupal version control system.
UPDATE: Here are the slides for Paul's talk: PDF, LaTeX Beamer sources
FLOSS Fund Nominee: JQuery
Social Night at the Rum Runner Pub
Join us as we engage in free-ranging discussion. Maybe there will be tech demos too.
NOTE: This event will be held at the Rum Runner Pub in Kitchener. There is no admission charge, but the hosts ask that all attendees purchase something to eat and/or drink at the pub.
Here is a picture of the pub sign: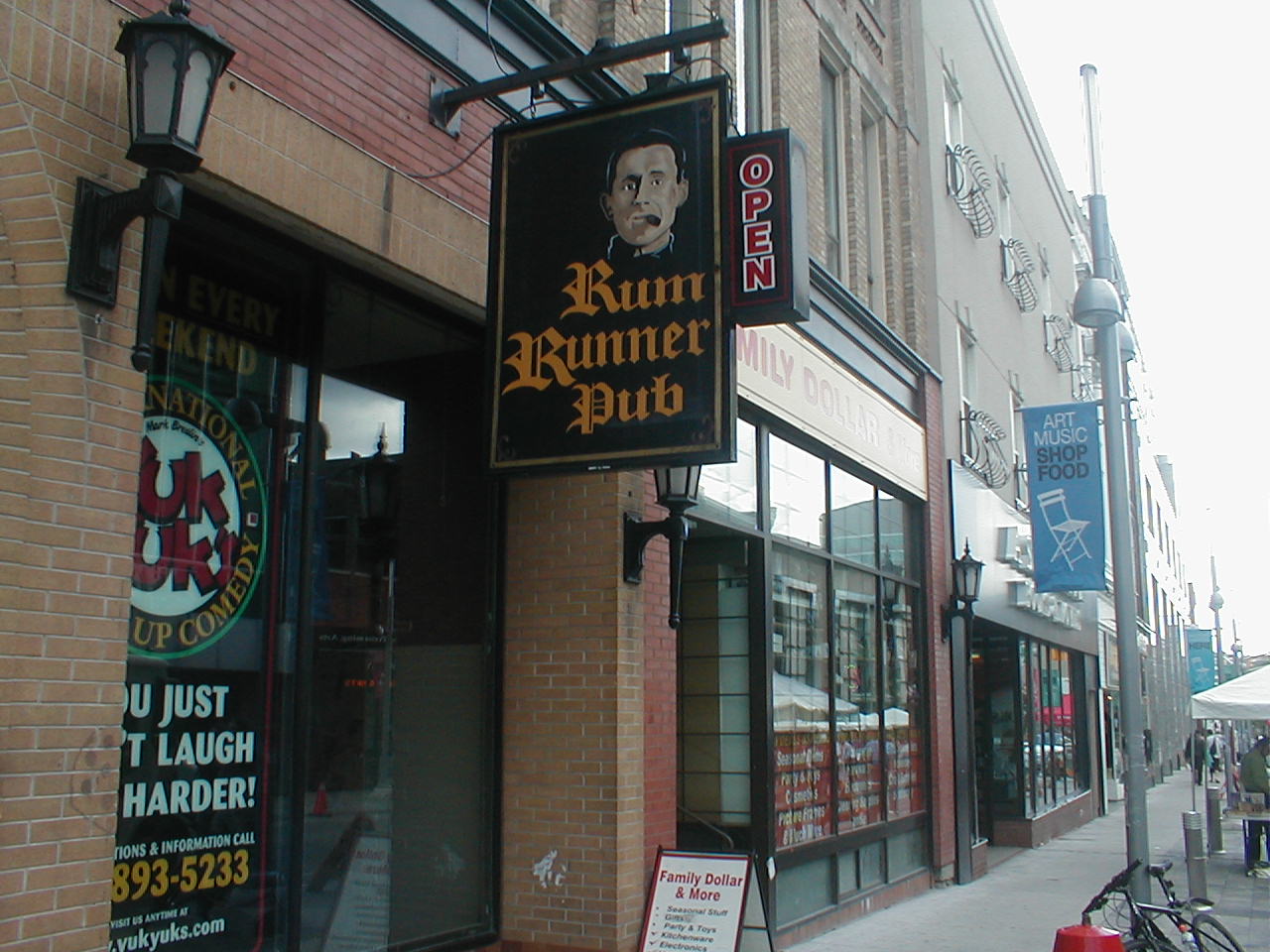 A number of KWLUG members will discuss topics related to the customization of Android phones:
- Making your phone run more smoothly
- Trying new firmware
- Beta-testing mods
Ralph Janke will demonstrate a use of the OpenLayers library that does not involve maps.
Jeff Voskamp will tell us about IPv6, an update to venerable IP addressing that we should all have known by now.
Image Editing with the GIMP (x2)
Note: The April 2012 meeting on the GIMP has been rescheduled to May.
* * *
Julie Dey will demonstrate some techniques and "how I did this" stories with the GIMP, a powerful photo manipulation tool.
Raul Suarez will then give a second presentation on other aspects of GIMP usage.
Note: The April 2012 meeting on the GIMP has been rescheduled to May.
* * *
William Park will show off AppGen, which is Enterprise Resource Management (ERP) software for UNIX. He will demonstrate the look and feel of this ERP implementation, and show how it can be used as a reference for future ERP development.
Darcy Casselman will show off Ubuntu TV, Ubuntu's cloud-connected entry into the PVR market.
Configuration Management with Puppet
Puppet is a powerful configuration management system that allows systems administrators to centrally configure and deploy computers on their networks. Eric Gerlach will tell us about its care and feeding.
Aden Seaman will discuss a number of technologies and tricks he discovered in setting up a two-node high-availability cluster in his own home. He will give an overview of how DRBD block device mirroring, OCFS2 shared disk filesystems, GlusterFS cluster filesystems, clever network configuration, and the Pacemaker and Corosync cluster resource tools can work together to make a high- availability computer cluster. He will also briefly touch on integrating User Mode Linux virtual computers, an Asterisk PBX, and a DSL and firewall setup with the cluster. Finally he will give a live demonstration of his system.
Unity, Gnome-shell, and the fuuuuutuuuuure
Note that we will be holding this meeting on January 9, even though technically January 2 is a non-holiday Monday.
* * *
The GNOME desktop environment has recently released version 3, and with it a new interface called the GNOME Shell. The Ubuntu project has developed an alternative interface called Unity. In this presentation, Chris Irwin will tell us why GNOME Shell is awesome, and Darcy Casselman will do the same for Unity.
Some aspects they may cover include:
Change is not (always) evil
The common underpinnings and goals of Unity and Gnome Shell
The benefits of competition
Extensions
Common complaints and rebuttals
FLOSS Fund: MusicBrainz
Kiwi Ssennyonjo will talk about the latest release of pfSense, a powerful firewall distribution based on the BSD kernel. The firewall features: a powerful web GUI, easy rule editing, OpenVPN, pretty graphs, Captive Portal functionality, extensions/plugins, a large user base and much more.
Vidcast Link
Batch Video Editing, FLOSS in the Developing World
We have two presentations lined up for this month.
Rodrigo Gonzalez will give us a short presentation on "Free Software in the Developing World". This may turn into a series of short presentations on free software adoption in different geographic areas.
Raul Suarez will give a talk on batch editing tools. He writes:
GUI Video editors are great for one-offs but very time comsuming when you need to repeat the same video process to multiple videos.
There are several very powerful free software command line utilities that can be used for scripting those repetitive tasks.
I started investigating using them to edit my presentation videos consistently and, althogh I found that the learning curve is steep, one can start with cookie cutter recipies and evolve from there.
In this presentation I will go through some of those recipies using mainly mencoder, ffmpeg, imageMagick and a few other tools I've found along the way.
KWLUG 10th Birthday Party
KWLUG held its first meeting on October 13, 2001, which means this month marks the 10th anniversary! Help us celebrate at this informal social event.
Big Blue Button, RealLife Mobile Messaging
Big Blue Button is open-source web conferencing software geared towards education. It features live video chat, VoIP communication, document sharing and much more. Raul Suarez will discuss Big Blue Button:
- What it is
- How to set it up
- How to use its Web API
- How to integrate components
In addition, Norman Young will demonstrate a mobile phone app he created called "RealLife Mobile Messaging". He writes:
Despite running on Linux, Android incurs a paradigm shift from
traditional application programming. On Android, you don't call the
System, the System calls you! This introductory talk reviews the
presenter's experience in re-targeting a messaging application from
Python and GTK on the Maemo Nokia N800 Tablet to Android. We compare
Android's architectural components (Activity, Service, Intent, Content
Provider, and Broadcast Receiver) to their approximate counterparts on
Linux (GUI, Job, Message RPC, File system, and Signal).
Ubuntu Community Tools, apt-dater, FreeSWITCH/FusionPBX
NOTE: We are indeed having a meeting on July 4, because the Canadian holiday is Friday July 1 this year.
* * *
Join us for a series of shorter presentations:
Kiwi Ssenyonjo will update us on the latest developments in FreeSWITCH (the telephony platform) and FusionPBX (a graphical frontend).
Darcy Casselman will give a presentation on "Ubuntu Canada: Communitizing the Community with Community Tools"
Paul Nijjar will give a presentation on "Keeping Debian/Ubuntu Systems Up to Date", which will cover apt-cacher-ng, apticron and apt-dater. (slides, presentation steps)
Vidcast Link
Join us for another KWLUG social night! Depending on attendee interest, this meeting might include:
- Interesting discussions about technical and social topics related to open source
- Hands-on informal demonstrations of interesting hardware and software (including projects being worked on by KWLUG members)
- Installfests and Linux troubleshooting help
- A keysigning party
- Snacks and munchies
App Inventor Toolkit, Linux Security Overview
Brian Nickle will present the Google App Inventor for Android, a programming language that supports drag-and-drop programming.
Fernando Duran will present an overview of Linux server security, with a review of security areas, a checklist covering security aspects to be aware of, and a list of OS tools and free services you can use for security auditing.
John van Ostrand's presentation on the Sleuth Kit will be rescheduled.
Lori Paniak will discuss the powerful OpenVPN virtual private network solution, which allows you to connect computers that are far away physically into a secure virtual network. OpenVPN server and/or client is available on a wide range of hardware from routers to servers running BSD, GNU/Linux, Windows and MacOSX.
Topics of discussion:
1) Generating your own Certificate Authority with Easy RSA. Creating and maintaining certificates and keys for use with OpenVPN.
2) Setting up a simple point-to-point VPN connection between an OpenVPN server and remote client.
3) Routed VPN - the Road Warrior.
4) Bridged VPN - just like being there.