Ripping Audio to a Linux Media Centre + Lossless Audio Archiving
I tried ripping a CD once. Everybody was talking about ripping their CD collections, and I wanted to be trendy. It did not turn out well. The resulting CD fragments wouldn't lie flat in the tray of my CD player any more, and the music sounded terrible -- much worse than before I had tried ripping it. Worse, I couldn't undo the damage. Not even duct tape helped. I resigned myself to being uncool, and dismissed ripping CDs as yet another trend I would never understand, like distressed jeans or body scarification.
Apparently I am in the minority. People continue to rip their CD collections, and supposedly some people have moved on to ripping DVDs and other media. They claim that this has many advantages: better searching, easy playlists, the ability to play audio from many different devices, and reduced shelfspace. I remain dubious, but if anybody can convince me it would be this month's presenters. Richard Weait and Colin K (aka Mysterious Colin) will demonstrate some techniques they use to rip their audio.
Richard has cobbled together old hardware into a monstrosity that can rip through CD collections quickly and efficiently. He will demonstrate the hardware and software he put together for this task. (Incidentally, if you have never seen Richard present you really want to do so. Over the years KWLUG has been blessed with many excellent presenters, and Richard is definitely one of them.)
None of that should detract from the second presentation in our double feature. Colin has demonstrated his audio-visual chops by recording and livestreaming KWLUG presentations for us. (See, for example, http://www.twitch.tv/chamunks/videos .) He is interested in lossless, high-fidelity ripping, and to accomplish this he uses a piece of software called Morituri, which you can read about at http://freecode.com/projects/morituri.
In other news, the nice people at the Debian project will be releasing the latest version of their distribution (codenamed "Wheezy", which is not intended to be a comment on the distribution's cardiovascular health) on May 5. The kwlug-disc mailing list has been abuzz with chatter about holding some kind of release party after the main meeting. Details are still a little sketchy, but if you are in a celebratory mood feel free to show up with party hats and/or goodies to share.
KWLUG member Chris Irwin recently got a new toy: a colour-calibration device called ColorHUG (http://hughski.com/). This device does not give you a hug, but rather engages in some color profiling, and generates an ICC profile for your monitor. In the spirit of conspicuous consumption, Chris is bringing his new toy to the KWLUG meeting, and is offering to profile people's monitors on a first come, first served basis.
* * *
Note: There will be a release party for Debian Wheezy happening after the regular meeting schedule, at 9pm. We will have our regular presentations first.
This month's presentations both focus on converting audio on physical media to digital formats.
Richard Weait writes:
I recently converted my plastic disc CD collection for use on a full-house
media system. it's nice to be able to play thematic playlists without
changing discs. One thing that kept me from this for years was the endless
time ripping the CDs to digital. The solution, for me, was two-part.
Re-purpose some old hardware, and use some improved software.
During this presentation Richard will demonstrate his workflow and tools.
Mysterious Colin writes:
This presentation will create Archival quality Lossless audio
rips with log files to boot so you can be certain there has been zero loss
between the medium and the FLAC files.
In particular, Colin will likely discuss the Morituri project
* * *
The host for this meeting was acant.
LDAP for small organizations
Have you seen the light? I hope so. Spring is finally here, which means that sometimes you can see sunshine at 4pm. Many people's moods have lightened after a long dark winter. So maybe it is appropriate that April's KWLUG presentation will feature a light-hearted take on a lightweight subject: the Lightweight Directory Access Protocol, or LDAP. LDAP provides mechanisms for querying and managing directory informations, often about user and network information. Rumour has it that LDAP is lightweight in the same way that SNMP is simple, but Tim Laurence will happily shed light on the topic. In his presentation, he will cover basic concepts, how to set up and use a simple LDAP server to store addresses and user accounts, and how to create highly available LDAP clusters.
As you might have guessed, this topic is likely not to be beginner-friendly except to those beginners enthusiastic about LDAP clusters. But it is likely to be a good presentation; in the past Tim has graced us with presentations that have been very well-received.
In other news, longtime KWLUG member John Eddie Kerr contributed a Linux tutorial as part of the "How-to Videos for 100 Linux Tutorials" campaign, and he got a nice write up for doing so:
http://www.linux.com/news/featured-blogs/200-libby-clark/712255-law-lib…
In other events, the Centre for International Governance Innovation (CIGI) is offering a couple of talks relevant to techies this month. On April 16, Steve Crocker from ICANN will be talking about "the Multi-Stakeholder Model of Internet Governance", and on Wednesday April 17 there will be a breakfast event on "Privacy, Access and Corporate Control: The Battle for Canada's Internet" featuring Glenn McKnight and Evan Leibovitch, whom some people might recognize as one of the founders of CLUE, the Canadian Association for Open Source. You can find out more about these events at the following sites:
http://www.cigionline.org/events/when-less-more-past-and-future-of-mult…
http://www.cigionline.org/events/cigi-and-communitech-breakfast-privacy…
In other user groups, Andrew Cant would like you all to know that there is a (relatively) new Ruby on Rails meetup in town: http://www.meetup.com/kw-ruby-on-rails/ . Their next meetup is Tuesday, April 16.
Another group of interest might be the folks at Hackademy, who are attempting to help communities become digitally literate and fluent in programming. They care currently looking for people to help them teach courses, and it looks like all of their recommended subjects feature FLOSS software or hardware. If you are interested in becoming an instructor or a student, they have surveys for you to fill out at http://hackademy.ca
* * *
Tim Laurence will tell us how to use LDAP (the Lightweight Directory Access Protocol) to centralize user information across machines in a network. He may also show us how to set up a redundant failover cluster of LDAP servers.
Edited to add: Here are the slides of the talk in ODP format.
Here is a tarball containing the slides above, and configuration snippets from his presentation.
Video:
and here is a link to the video if the embedded version does not work.
Vidcast Link
Linux for the In-Laws, Porting Embedded Bootloaders
For nearly fifteen years now we have been hearing all about how this year was going to be the year of the Linux Desktop: how Linux was going to be so ubiquitous and user-friendly that even your parents would be able to use it. Whether we are there yet or not, Gordon Dey has not waited for the Linux Desktop to become trendy. He has set up both his in-laws and his church on wholly Linux environments, and in his presentation he will share the challenges and successes of his endeavours. This presentation will likely be beginner-friendly.
Regardless of the Linux Desktop, the year of the Linux Embedded Computer has been with us for a while now. Two months ago we heard a successful presentation about the Raspberry Pi, but that is hardly the end of the story. This month Fadil Berisha will discuss a different embedded system: the iMX233-OLinuXino. In particular, Fadil has ported the Barebox bootloader to this system, and he will discuss this porting experience, with aim of tutoring others in porting bootloaders to other boards. This presentation will likely be less beginner-friendly, but may be of great interest to those fans of system-board computing.
In other events, Albert O'Connor is organizing an Ontario-wide Open Data conference on Saturday, May 11. They are accepting speakers until March 4, so if you have a talk of interest to the open data community, submit it soon. You can also register for the conference: early bird registration is $25. See http://go-opendata.ca/ for more information.
We are once again on the lookout for presentations. If you have a topic that might be of interest to Linux and free software enthusiasts, please send me an email. We have spots available as early as the May presentation. (And if you have previously offered a presentation that I spaced out on, please prod me.)
Video
and the

Fadil Berisha ported the Barebox bootloader to a iMX233-OLinuXino embedded system board. He will use this example to give us a tutorial on porting bootloaders to other boards. This talk is probably less beginner-friendly.
A grassRoots history of the early hi-tech community in Kitchener-Waterloo
For years the rest of Canada has predicted the demise of Research and Motion, and has speculated on what life would be like without RIM propping up our economy. Would Kitchener-Waterloo become a ghost town, populated by tumbleweeds, decaying storefronts, and a modicum of human inhabitants bearing shotguns as they rock rocking chairs on their front porches? (You may unleash your snarky downtown Kitchener jokes now.) Or would our little towns scrape by without the company?
With the launch of Blackberry 10, Research In Motion is no more, and we all get to see what life is like in a post-RIM Waterloo Region. (Is it too much to hope for fewer crude jokes about the nature of employment at the company?) Certainly, RIM's conclusion does not really match the defeatist predictions; the company was renamed, not dissolved. But people still conjure up all kinds of dystopias about a post-Blackberry world. Are these fears founded? Is Waterloo Region a one-trick pony?
Kevin Stumpf does not think so. According to him, Waterloo Region has been a thriving high-tech region since the 1920s. In this month's KWLUG meeting, he will present "A grassRoots history of the early hi-tech community in KW". The presentation documents many high-tech companies in the region which have come and gone, and attempts to answer the question of why high-tech companies flourish in the region. Although this presentation is not particularly Linux-centric (we poached Kevin as a guest speaker after he presented at the KW Amateur Radio Club meeting last September), it is timely and beginner-friendly.
On the topic of change, the makers at Kwartzlab also went through a transition while nobody was looking: they moved from their old Duke Street location to a new home at 33 Kent Street. On Feb 16, they will be holding a grand opening party so you can check out their new digs:
http://www.kwartzlab.ca/2013/01/grand-opening-open-house-and-party/
For those of you with a hankering to learn programming, the friendly people at WatPy are holding a "Learn to Code With Python" weekend at the Communitech Hub. The event will be happening Feb 22 and 23rd. You can register and read more on the WatPy website:
http://watpy.ca/learn/2013/feb/learn-to-code/
* * *
Kevin Stumpf will present "anecdotal history of the early technological community in KW from 1920 to 1990". He writes:
Given the odd state of RIM (founded and based in Waterloo) it's too easy to project an odd mood over KW, but even though the situation is critical and its effects have so far been devastating, the more you know about KW you'll appreciate its resilience and see how easy it can be to visualize a healthy post-big-RIM local economy.

Imagine a workforce with a collective experience of several generations working in hi-tech? Bear in mind too that this workforce isn't just techies. It includes everyone -- clerical, administrators, and investors -- all who have been exposed to growing hi-tech business since birth. Companies grow and shrink, come and go, but people remain so there is good news for KW, as well as communities anywhere that have incubated hi-tech companies.
(Abstract excerpted from: http://www.techvibes.com/blog/kitchener-waterloo-was-a-hi-tech-hub-long-before-rim-arrived-2012-09-05)
SelfSourced Software, RaspberryPi
Oh January! You promise a fresh start, a clean slate, an opportunity to reflect on the mistakes of years past and make some new ones. Here in the plush offices of KWLUG World Headquarters, we are not immune to January's call. Our focus groups and market research have revealed a problem newer and less experienced meeting attendees run into: people attend one or two meetings, find that the technical content of presentations are way above their heads, and feel intimidated about attending future meetings. Appealing to newer and less experienced Linux users is definitely part of KWLUG's corporate vision, so beginning this year we are attempting to offer a wider variety of presentations, and to clearly label those presentations we expect will be more beginner-friendly (which is not to say they will be expert-unfriendly, or that highly-technical topics are disappearing from the meeting schedule entirely).
This month marks our first attempt at this experiment. David Lloyd Carr will kick things off by talking about "SelfSourced software" -- computer programs you write to "scratch your own itch". The idea of a beginner-friendly presentation on the topic of computer program might sound pretty crazy, but David promises to keep the content accessible to a general audience.
Our second presentation of the evening will feature a topic super-hot amongs the makers and nerd set: the Raspberry Pi, a low-cost, tiny, general purpose computer on a circuit board. John Eddie Kerr bought one of these devices recently, and he will relate his adventures in exploring its functionality. Any discussion of the Raspberry Pi carries the risk of launching itself into the ubertechnical stratosphere, but maybe it helps that John is a librarian and not an engineer?
As usual, our meetings will start at 7pm (but we start setting up the room around 6:30pm, and always appreciate additional help.)
We are always looking for presentation offers, so if you have a topic you would like to present then please get in touch by emailing me offlist. It would definitely be nice to slot in some more beginner-friendly presentations, but presentations on more technical topics are also welcome.
* * *
This meeting is newbie-friendly.
David Lloyd Carr writes his own software. He says:
Frustrated that there just doesn't seem to be a program or app that does exactly what you want? Maybe there is, but it does a lot of other things too that just get in the way. Maybe you just can't see paying for something so trivial. "I just want it to... How hard can that be?"
The answer may be, "Not so hard." Writing your own software has never been easier. Together we'll look at a few programs I wrote for my own personal use and how you can go about creating your own.
John Eddie Kerr will tell us about his adventures with the low-cost RaspberryPi computer.
Vidcast Link
Panel Discussion: Earning a Living with FLOSS
As we all know, the problem with Free Software is that it is free.
Sure, Free Software is liberated, so that we can study it and share it
and improve it. And sure, Free Software is accessible, so that people
all over the world can take advantage of it regardless of their status
and income level. Free Software is a great deal for those of us who
consume it. But for twenty-odd years now, we have been struggling with
the question of how anybody makes money in a world where you take the
product of millions of hours of labour and gives it away for no money.
Those of you with good memories will remember a presentation from June 2008,
when Khalid Baheyeldin revealed his secret strategies for making big bucks in
the Free Software world. This month Khalid is back, and he's brought a posse.
This month's KWLUG presentation will take the form of (our first? first in a
while?) panel discussion on the topic of "Making a Living in FLOSS". Our
panellists work in a range of fields and have a range of backgrounds:
The aforementioned Khalid Baheyeldin is an immigrant originally from
Egypt. He runs a Drupal consultancy called 2bits.com that focuses on
Drupal development and optimization.
Andrew Berry also works in Drupal, but for a larger firm called
Lullabot. He worked on Drupal sites instead of his schoolwork, and
look where it got him.
Fernando Duran is decidedly not a Drupal developer -- he works in
the field of computer and network security, for tech startup
I Think Security. He also immigrated to Canada, this time via Spain.
Joe Wennechuk works for PryLynx Corporation, a company that works
with the OSCAR open source medical records system. He started his
career doing factory work, and transitioned to the IT field a few
years ago.
Andrew Cant is a software developer who currently works for SugarCRM.

The panellists will their jobs in relation to Free Software, their
career paths, and their prospects on the FLOSS job market now and in
the future. Bring your questions.

This panel discussion might be of interest to those looking to get
jobs in the IT field, those transitioning to Canadian employment from
other countries, those of us curious about how people actually make
money doing that Free Software thing, FLOSS enthusiasts of all kinds,
and you. If you know others who would be interested in the topic,
please invite them along too. The meeting will start at 7pm.

In other news, this month's FLOSS Fund nominee is the PortableApps
installer, which you can read about at http://portableapps.com .
PortableApps provides a way to package Windows software (often FLOSS)
so that it can run without changing the underlying operating system,
which makes it handy for installing applications to USB keys. You can
contribute to this month's nominee during the meeting, or by
contacting me offlist.

Video

...and links to the videos: Part 1, Part 2.

* * *
This month's consists of a panel discussion about earning a living with Free and Open Source Software (FLOSS). All of our panellists use FLOSS in their jobs -- some of them exclusively.

The panellists will discuss topics including: how they got involved with FLOSS, how they got employment relating to FLOSS, the prospects and challenges of work in the field, and advice for others who are interested in FLOSS-related employment.

The night's panellists include:
Vidcast Link
Aren't you sick and tired of Linux being so easy to use and install? You live-boot a CD, run through a nice graphical installer and -- poof! -- Linux is installed on your desktop or notebook or toaster, and there are never ever any problems. If you are one of the teeming hordes who wish you could relive 1998, boy does Brent Clements have the presentation for you. Brent spent his summer vacation playing with ArchLinux, a distro that is user-friendly in a different way. ArchLinux tries to Keep Things Simple by discarding unnecessary additions, modifications, or complications like GUI-configuration tools or even X-Window environments. You too can spend hours twiddling configuration files with a text editor, and in this month's presentation Brent will show us why you would want to (hint: efficiency, installing exactly the packages you want, learning about how things work under the hood, and the ability to mix binary packages with stuff you compile from source).
This month's FLOSS Fund nominee is XBMC, media centre software that can turn a home PC into a home theatre. You can find out more about XBMC by getting into a time machine and attending the October 2010 KWLUG meeting, or by going to http://xbmc.org . If you would like to contribute to the project but will not be attending the meeting, give me a shout and I will hook you up with people who will gladly take your money.
There are some interesting talks being put on by the WatPy people on November 6. You can see http://watpy.ca . Or you can attend one of the many many other interesting tech events advertised on the WstCamp calendar: http://www.watcamp.com
It is that time of year again: time to beg and plead for KWLUG presentations. Are you working on something nifty that you might want to share? Do you (or somebody you know) work for a company that uses FLOSS and would be willing to talk about it? Would you like to help new Linux users get acquainted to FLOSS with a tutorial or introductory presentation? If so, please be brave and present for the group. For the most part, we are a friendly, non-confrontational audience for the interesting FLOSS-related ideas you would like to spread.
Video
and a link to the video if the embedded version does not work for you.
* * *
R. Brent Clements will introduce us to Arch Linux, a lightweight and flexible Linux distribution.
Colin kindly posted this presentation to Youtube.
Vidcast Link
Software Freedom Day 2012
Meeting Location
Note: this event will be held from 10am-4pm.
Software Freedom Day is an invitation to shape the future of our
digital world. Rather than being overwhelmed and controlled by the
many issues of our computerized age, the free software movement
harnesses the creativity of citizens worldwide. Free software treats
software -- the code that runs computers, cellphones, and other
technological devices -- as abundant, not scarce.
We are encouraged to use this abundance, learn from
it, and share our contributions with others. Although it sounds like
the geekiest holiday ever, the issues we celebrate on Software Freedom
Day affect everybody whose lives are touched by technology.
Software Freedom Day is celebrated in 64 countries across the world,
and for the fifth year in a row Waterloo Region is joining
the party.
This year, the Working Centre is running Software Freedom Day
celebrations on Saturday, September 22. The Queen Street Commons Cafe
will host talks suitable for non-technical audiences, on such
topics as the economics of Free Software, getting started on writing
your own software, and examples of open source in the photography
world. The Computer Recycling space at 66 Queen Street will host a
helpfest, where volunteers can help you install free and legal
software such as Ubuntu or LibreOffice on your own computer. There
will also be interactive demonstration machines and giveaways.
No matter what your level of computer skill, we invite you to join us:
Software Freedom Day
Saturday, September 22
10am-4pm
Computer Recycling (66 Queen Street S)
Queen Street Commons Cafe (43 Queen Street S)
Kitchener
Bazaar + Outsider's Drupal Overview
Adam Glauser will show us the use of Bazaar, a distributed version control system used extensively by the Ubuntu project.
Paul Nijjar will give a somewhat-nontechnical outsider's view of his experiences with the Drupal version control system.
UPDATE: Here are the slides for Paul's talk: PDF, LaTeX Beamer sources
FLOSS Fund Nominee: JQuery
Social Night at the Rum Runner Pub
Join us as we engage in free-ranging discussion. Maybe there will be tech demos too.
NOTE: This event will be held at the Rum Runner Pub in Kitchener. There is no admission charge, but the hosts ask that all attendees purchase something to eat and/or drink at the pub.
Here is a picture of the pub sign: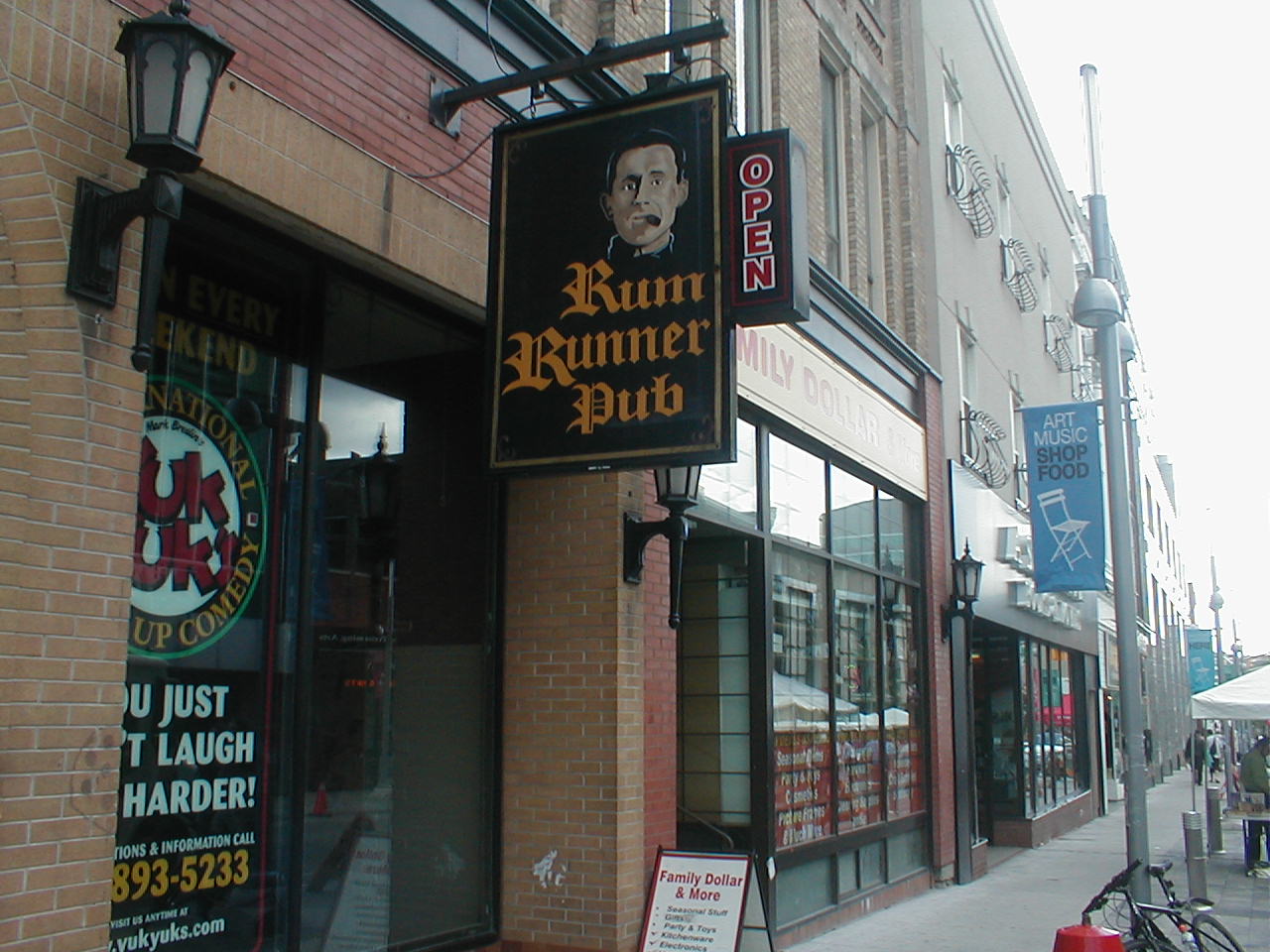 A number of KWLUG members will discuss topics related to the customization of Android phones:
- Making your phone run more smoothly
- Trying new firmware
- Beta-testing mods
Ralph Janke will demonstrate a use of the OpenLayers library that does not involve maps.
Jeff Voskamp will tell us about IPv6, an update to venerable IP addressing that we should all have known by now.
Image Editing with the GIMP (x2)
Note: The April 2012 meeting on the GIMP has been rescheduled to May.
* * *
Julie Dey will demonstrate some techniques and "how I did this" stories with the GIMP, a powerful photo manipulation tool.
Raul Suarez will then give a second presentation on other aspects of GIMP usage.
Note: The April 2012 meeting on the GIMP has been rescheduled to May.
* * *
William Park will show off AppGen, which is Enterprise Resource Management (ERP) software for UNIX. He will demonstrate the look and feel of this ERP implementation, and show how it can be used as a reference for future ERP development.
Darcy Casselman will show off Ubuntu TV, Ubuntu's cloud-connected entry into the PVR market.
Configuration Management with Puppet
Puppet is a powerful configuration management system that allows systems administrators to centrally configure and deploy computers on their networks. Eric Gerlach will tell us about its care and feeding.
Aden Seaman will discuss a number of technologies and tricks he discovered in setting up a two-node high-availability cluster in his own home. He will give an overview of how DRBD block device mirroring, OCFS2 shared disk filesystems, GlusterFS cluster filesystems, clever network configuration, and the Pacemaker and Corosync cluster resource tools can work together to make a high- availability computer cluster. He will also briefly touch on integrating User Mode Linux virtual computers, an Asterisk PBX, and a DSL and firewall setup with the cluster. Finally he will give a live demonstration of his system.
Unity, Gnome-shell, and the fuuuuutuuuuure
Note that we will be holding this meeting on January 9, even though technically January 2 is a non-holiday Monday.
* * *
The GNOME desktop environment has recently released version 3, and with it a new interface called the GNOME Shell. The Ubuntu project has developed an alternative interface called Unity. In this presentation, Chris Irwin will tell us why GNOME Shell is awesome, and Darcy Casselman will do the same for Unity.
Some aspects they may cover include:
Change is not (always) evil
The common underpinnings and goals of Unity and Gnome Shell
The benefits of competition
Extensions
Common complaints and rebuttals
FLOSS Fund: MusicBrainz
Kiwi Ssennyonjo will talk about the latest release of pfSense, a powerful firewall distribution based on the BSD kernel. The firewall features: a powerful web GUI, easy rule editing, OpenVPN, pretty graphs, Captive Portal functionality, extensions/plugins, a large user base and much more.
Vidcast Link
Batch Video Editing, FLOSS in the Developing World
We have two presentations lined up for this month.
Rodrigo Gonzalez will give us a short presentation on "Free Software in the Developing World". This may turn into a series of short presentations on free software adoption in different geographic areas.
Raul Suarez will give a talk on batch editing tools. He writes:
GUI Video editors are great for one-offs but very time comsuming when you need to repeat the same video process to multiple videos.
There are several very powerful free software command line utilities that can be used for scripting those repetitive tasks.
I started investigating using them to edit my presentation videos consistently and, althogh I found that the learning curve is steep, one can start with cookie cutter recipies and evolve from there.
In this presentation I will go through some of those recipies using mainly mencoder, ffmpeg, imageMagick and a few other tools I've found along the way.