R. Brent Clements will give a beginner-friendly tutorial on Audacity.
Mikalai Birukou will tell us about the third leg of his journey in building out web infrastructure at scale. He writes:
I have talked about Docker and LXC out of my own experience. Now I've been Salt-ing the whole infrastructure ( https://docs.saltstack.com/en/latest/ ).

I'd love to share my own finite experience, findings, choices (not ideal, of course). I'd love to hear your comments, your perspective and your "war stories".

As usual, I'll talk from a perspective of doing it from ground up, the simple way possible (forever novice).

 
LibrePlanet 2020 Satellite Edition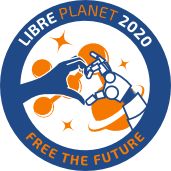 Each year, the Free Software Foundation holds a conference in Boston. This year, some people in Kitchener-Waterloo are organizing a satellite event to be held at the Delta Hotel in Waterloo. They write:
We're excited to be hosting our own version of LibrePlanet, an annual conference hosted by the Free Software Foundation in Boston for free software enthusiasts and anyone who cares about the intersection of technology and social justice. LibrePlanet brings together software developers, law and policy experts, activists, students, and computer users to learn skills, celebrate free software accomplishments, and face challenges to software freedom. Newcomers are always welcome, and LibrePlanet 2020 will feature programming for all ages and experience levels. The theme for LibrePlanet 2020 is "Free the Future".

For the first time ever, all the great presentations of LibrePlanet are coming to Canada! Bringing in the main talks via live stream, with space for local hallway track and more, LibrePlanet Canada Satellite Edition is your chance to meet with like-minded participants and take in the event from Canada. For those in Southern Ontario who find travel to Boston just beyond their price range, or those in Canada or anywhere else who have difficulties with travel to the USA, this is the version of LibrePlanet for you.
Tickets have a suggested price ranging from $50 (for students/low-waged) to $250 (for those being sponsored by their companies). Pricing is flexible in that you can pay less (or more!) for tickets depending on your financial circumstances.
Learn more about the conference and register at https://2020.libreplanet.ca/
LaTeX at the Law Library, clusterssh
John Eddie Kerr will deliver his long-anticipated presentation on LaTeX at his law library. He writes:
Not just for math and science, LaTeX has found its way into the law library I manage. I will demonstrate some of the documents I create in the library. I will also show what Gaelic and LaTeX have in common.
This will be a beginner-friendly presentation.
Jeff Smith will explain how he uses clusterssh to manage lots of Linux machines at once.
Lori Paniak will tell us about Dnsmasq, a program that provides network infrastructure for small networks: DNS, DHCP, network booting, and more...