TriOS College - 110 King St E
The Kitchener campus of TriOS college is located at 110 King St E, Kitchener. This is the Market Square mall at the corner of Frederick and King: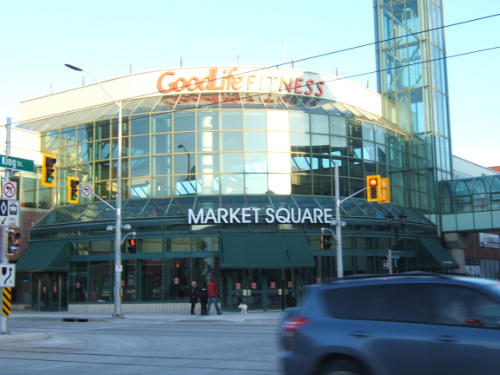 Here is an OpenStreetMap link: https://osm.org/go/ZXnwT5u6U-?m=, and here is a picture of the map: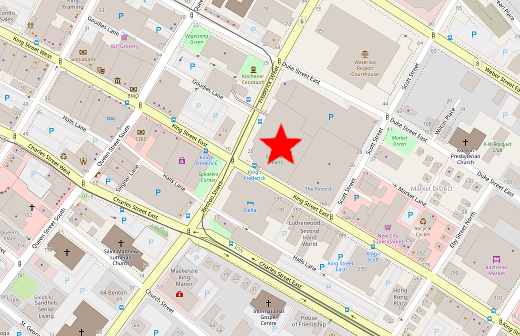 After entering the main doors. TriOS is to your right, just past the entrance: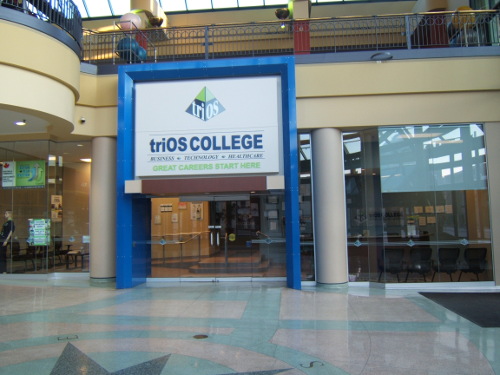 Note that the doors to the mall are locked by 7pm. Usually somebody will be able to watch the doors to let stragglers in, but this is not guaranteed. If you have a cell phone, bring it with you -- there may be a number you can call/text to get in. You may also want to use the main entrance at the corner of King and Frederick, even if you parked in the parking garage.
Parking
There is paid parking in the Market Square parking garage. This costs $4/hour. Access it off of Duke Street, at the corner of Scott Street. You have to go up the ramp to the third level to get to the public parking.
There is gratis street parking in downtown Kitchener after 6pm, but you may have to look around for a spot.
Bicycle parking is more of a hassle, although there is a rack to the right of the main entrance. Use a good bike lock.
Accessibility
There are ramps into the space, and it appears to be wheelchair accessible.