Hybrid: BBB and LIB 329 at Dana Porter Library
This meeting will be held in a hybrid format: Online on our BigBlueButton instance, and in-person at the Dana Porter Library. In the event that the library room is unavailable, we will hold the meeting online only.
Virtual Location: BigBlueButton
The meeting URL is https://webconference.kwlug.org/room/kwlug . There is no passcode. Firefox and Chrome-based browsers both work, and there may be an option to call in using a telephone. (If you can, please contact us beforehand if you plan to call in via phone.)
For information about how to use BigBlueButton, see our BigBlueButton page.
Our goal is to maintain the quality of online meetings even as we meet in-person, in the sense that the online component of our hybrid meetings should be no worse than when we met online exclusively. People who attend online are not second-class citizens; they should be able to see and hear presentation content clearly. 
We hope that the online versions of our meetings will remain an attractive option for those who join us from far away, those who (for whatever reason) feel uncomfortable gathering indoors, and especially those who are not feeling well. If you are feeling ill/contagious -- even if it is minor -- we ask you to participate online, not in person.
In-Person Location: LIB 329, Dana Porter Library, University of Waterloo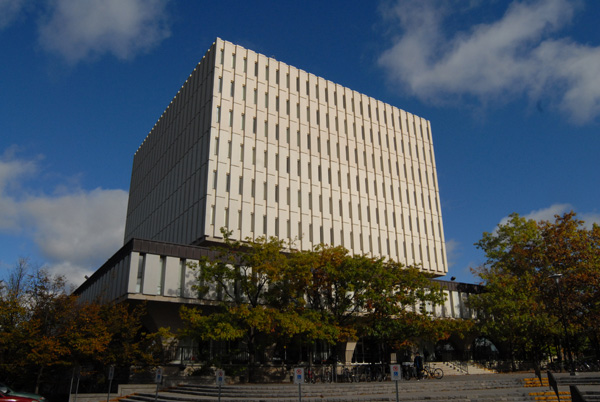 (Photo by the University of Waterloo Library on Flickr, released under a CC-BY-NC license)
The Dana Porter library is the brutalist "sugar cube" building on the main campus of the University of Waterloo. at 200 University Avenue West, in Waterloo. LIB 329 is the computer lab on the third floor. (Confusingly, the main entrance of the library is the second floor; you only go up one level to get to the lab.)
Accessibility
There is a ramp leading up to the main entrance of the library. The meeting space itself is wheelchair-accessible.
Transportation and Parking
There is abundant bicycle parking at the University. A number of buses come to campus, as does the ION light-rail transit train.
Car parking is trickier. There is one free parking lot: Lot E next to the Laurier-Waterloo Park ION stop. There is also paid parking available for $5.00 . D Lot is closest to the library, but it does not offer many spaces. The closest lots to the library are probably lots A or H. See the UW Parking Page for details. Note that some visitor parking lots require credit cards (not cash or debit) to pay.
Health and Safety
The University of Waterloo is a busy campus, so you will likely interact with some strangers as you arrive at the library.
The computer lab seats 25 people comfortably. The university has committed to MERV-13 filters in its HVAC systems. 
KWLUG is a mask-friendly environment, and as of this writing (2023) there will be some attendees who will be masking. We also intend to have masks on hand for people to wear. If the university orders stronger mandates (such as mandatory masking or vaccinations) then we will comply with those requirements (and inform attendees on the website and in meeting announcements) 
We ask those who are feeling ill to please participate virtually. (This goes for presenters too! Please contact the organizers if you are scheduled to present and would like to do so remotely.)