All the tools and methods described on the previous posts work very well with a small number of people sharing a desktop or collaborating, given that access must be granted and computer addresses shared, they work well within a trusted group.
For situations where you need to collaborate with "untrusted" people or with a large number of people, the best option is to use web conferencing software.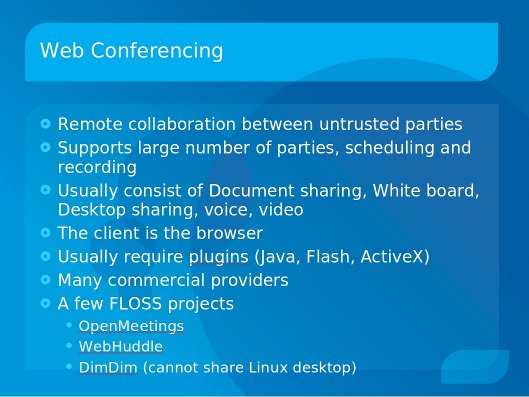 As the slide indicates there are many on line providers where you can subscribe either for free or small monthly fee and you can start hosting conferences on their servers. There are a few with Linux Clients, some "even" allow to share the Linux desktop.
Here are some examples of hosted services:
The market is moving so fast that I'm expecting that this list will grow and change quite rapidly in the next few years.
For the KWLUG presentation I decided to focus on two Free Software applications, OpenMeetings and WebHuddle, which can be hosted on your own servers, branded, and otherwise modified.
UI implemented in OpenLaszlo compiled to Adobe Flash
Desktop sharing implemented in Java
Document sharing, white board, Desktop Sharing, Audio/Video conferencing
Ideal for intranet conferencing
Runs under Red5 (Flash media server)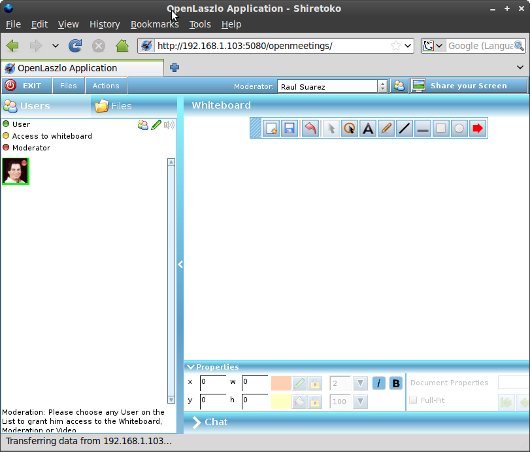 Pros:
Nice interface
Skinable
Actively developed
Administrator manages rooms and user permissions the rooms. Specific users have access to specific rooms
Two different types of rooms: Audience (Moderated), Conference (non-moderated)
Very light on the server side
No viewer installation required (Installation required to share the desktop or to use the Flash viewer)
Allows sharing MS Office and OpenOffice documents
Documents can be uploaded by any presenter while in a meeting
Supports LDAP authentication.
Cons:
Users must have a Flash and Java enabled browser
Resource intensive and slow on the client side due to the Flash implementation
All users must register. (you can create a "generic" id but any person using it may change the generic ID profile, including the password)
No remote control
Implemented in Java
Document sharing, white board, Desktop Sharing, Audio conferencing
Ideal for intranet/extranet conferencing
Not under active development but it is not a dead project. It's a solid finished product. The original developer still answers questions in the forum.
Runs under Jboss (Flash media server)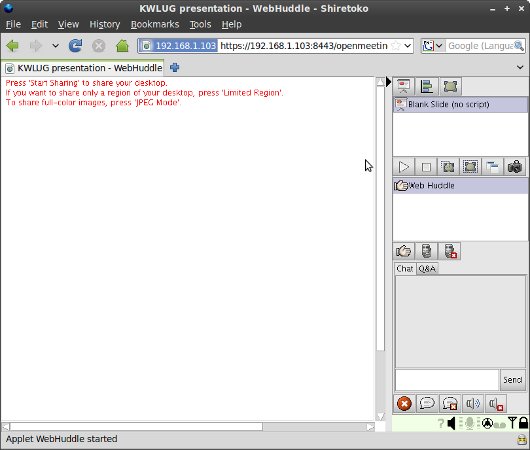 Pros:
Simple interface
Non-registered users can join meetings. Users must know the host's email and the meeting's password
Very light on the client side
Very light on the server side
Allows sharing a screen region instead of the whole screen
Offers meeting recording functionality
Supports LDAP authentication.
Cons:
Users must have a Java enabled browser
No functionality to recover a forgotten password. (although there is a workaround)
No video sharing
Only allows ppt, sxi (old open office) and gif/jpeg files
Shared documents can only be uploaded by the meeting owner before the meeting starts
No remote control.
Summary
Web conferencing is an excellent collaboration technique for distributed groups as well as a great medium for presentations to remotely dispersed audiences.
Whether you set up the server yourself or you use a vendor hosted solution, you can be sure that there are options for Linux, try them, you have nothing to loose and a whole lot to gain.
On the next two posts I will show you how to install the two servers described in this post.